What are the SDG's?
In 2012, With the "Rio +20" Conference on Sustainable Development, where Governments decided to develop global Sustainable Development Goals.
SDG's are the continuation of the "Millennium Development Goals" that are due in 2015.
The 70th session of the UN General Assembly adopted 17 goals and 169 targets of SDG's. SDG's have officially launched since 1st of January 2016.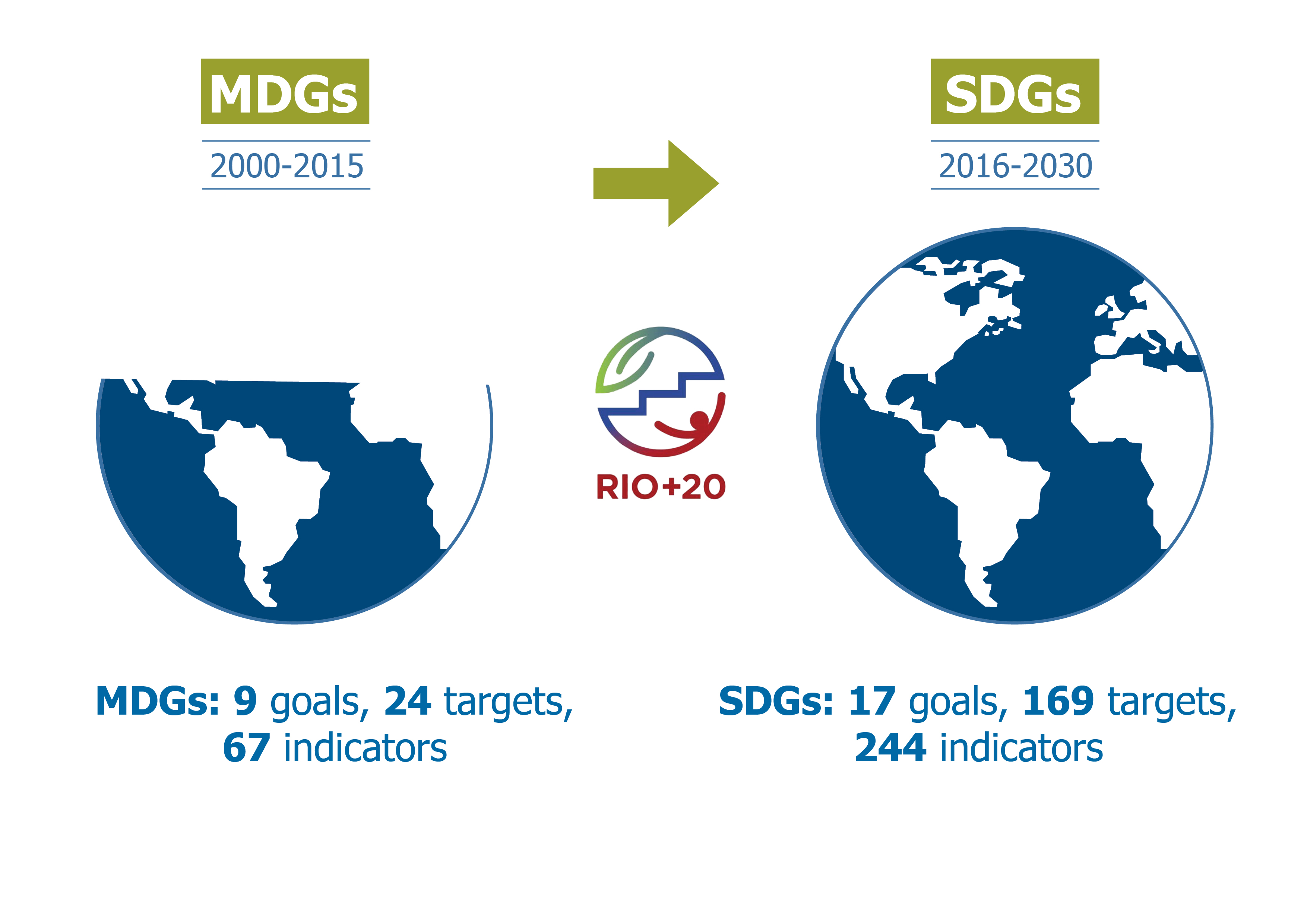 PILLARS FOR SDG's
There are three pillars to achieve integrated, balanced sustainable development: economic, social and environmental.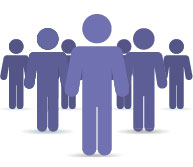 SOCIAL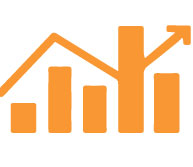 ECONOMIC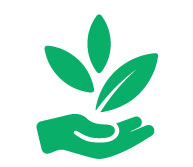 ENVIRONMENTAL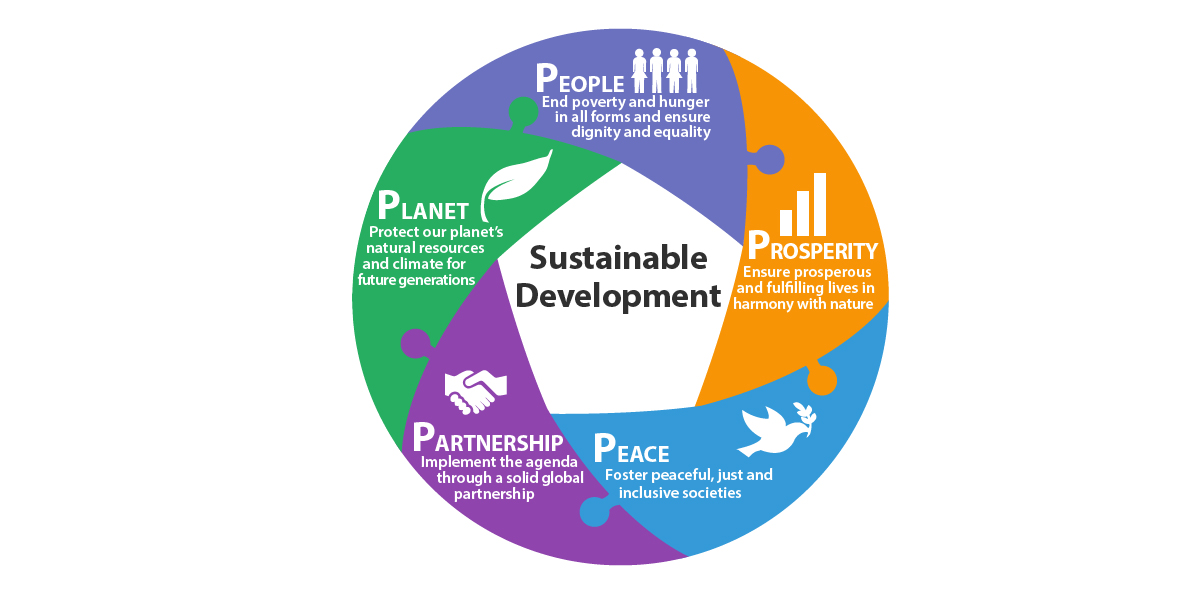 Top
GOALS, TARGETS AND INDICATORS OF "SUSTAINABLE DEVELOPMENT AGENDA-2030"
SDG's indicator framework was developed by the Inter-Agency and Expert Group on SDG Indicators (IAEG-SDGs) and agreed upon, including refinements on several indicators, at the 48th session of the United Nations Statistical Commission held in March 2017.

Goal

Name of Goal

Target

Indicators

1

No Poverty

7

14

2

No hunger

8

13

3

Good health

13

27

4

Quality education

10

11

5

Gender equality

9

14

6

Clean water and sanitation

8

11

7

Clean energy

5

6

8

Good jobs and economic growth

12

17

9

Innovation and infrastructure

8

12

10

Reduced inequalities

10

11

11

Sustainable cities and communities

10

15

12

Responsible consumption

11

13

13

Protect the planet

5

8

14

Life below water

10

10

15

Life on land

12

14

16

Peace and justice

12

23

17

Partnerships for the goals

19

25

Total

169

244
INSTITUTIONS TO BE INVOLVED IN THE IMPLEMENTATION OF SDG's
Governments of the countries, ministries, other government organizations, universities, research institutes, civil society organizations, international organizations, business organizations, citizens and other such as professional associations are involved in the implementation of SDG's.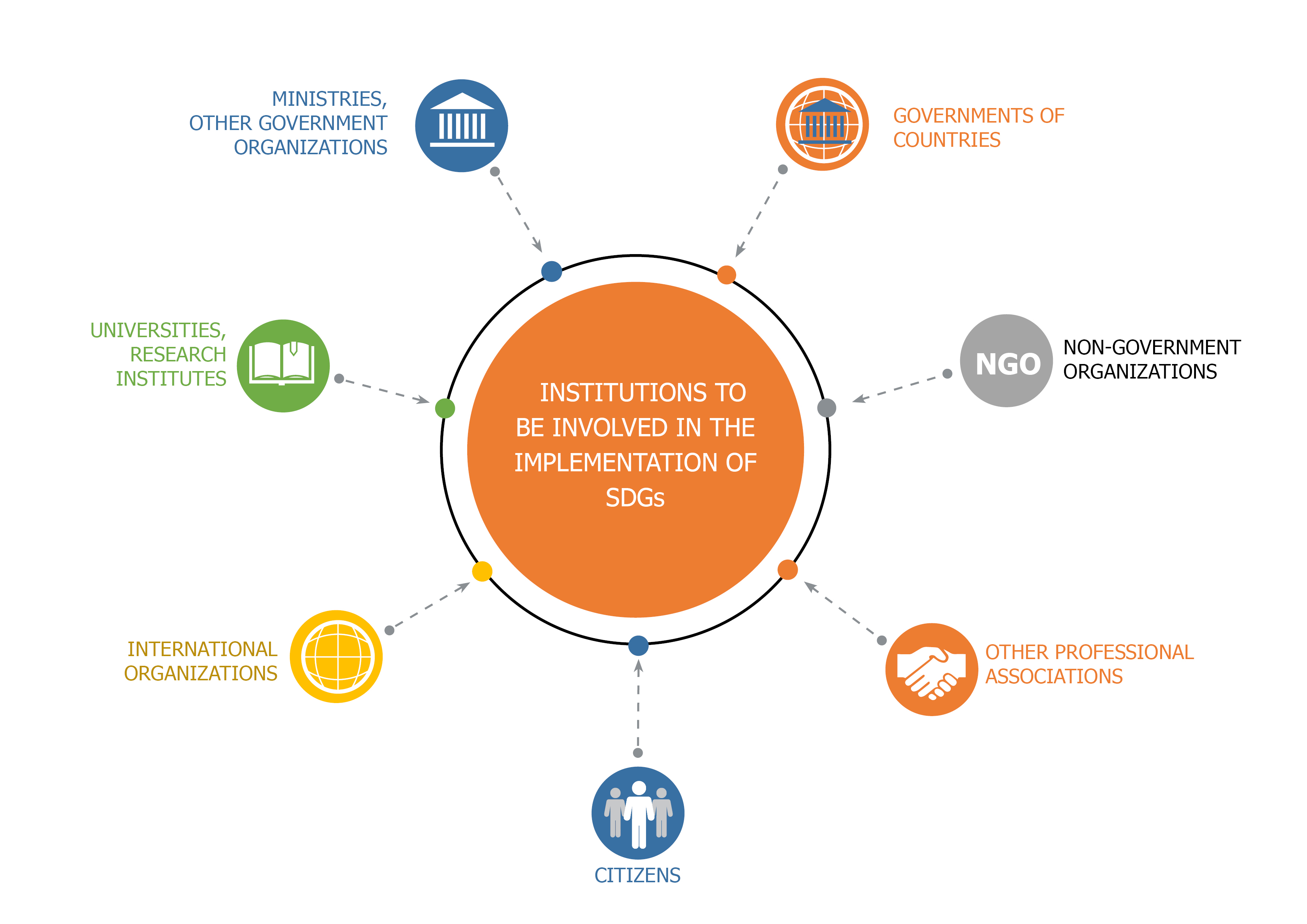 DATA SOURCES OF SDG's
Official statistics of national statistics office, administrative statistics of ministries and other government organizations and non-conventional data (big data) are data sources of SDG's.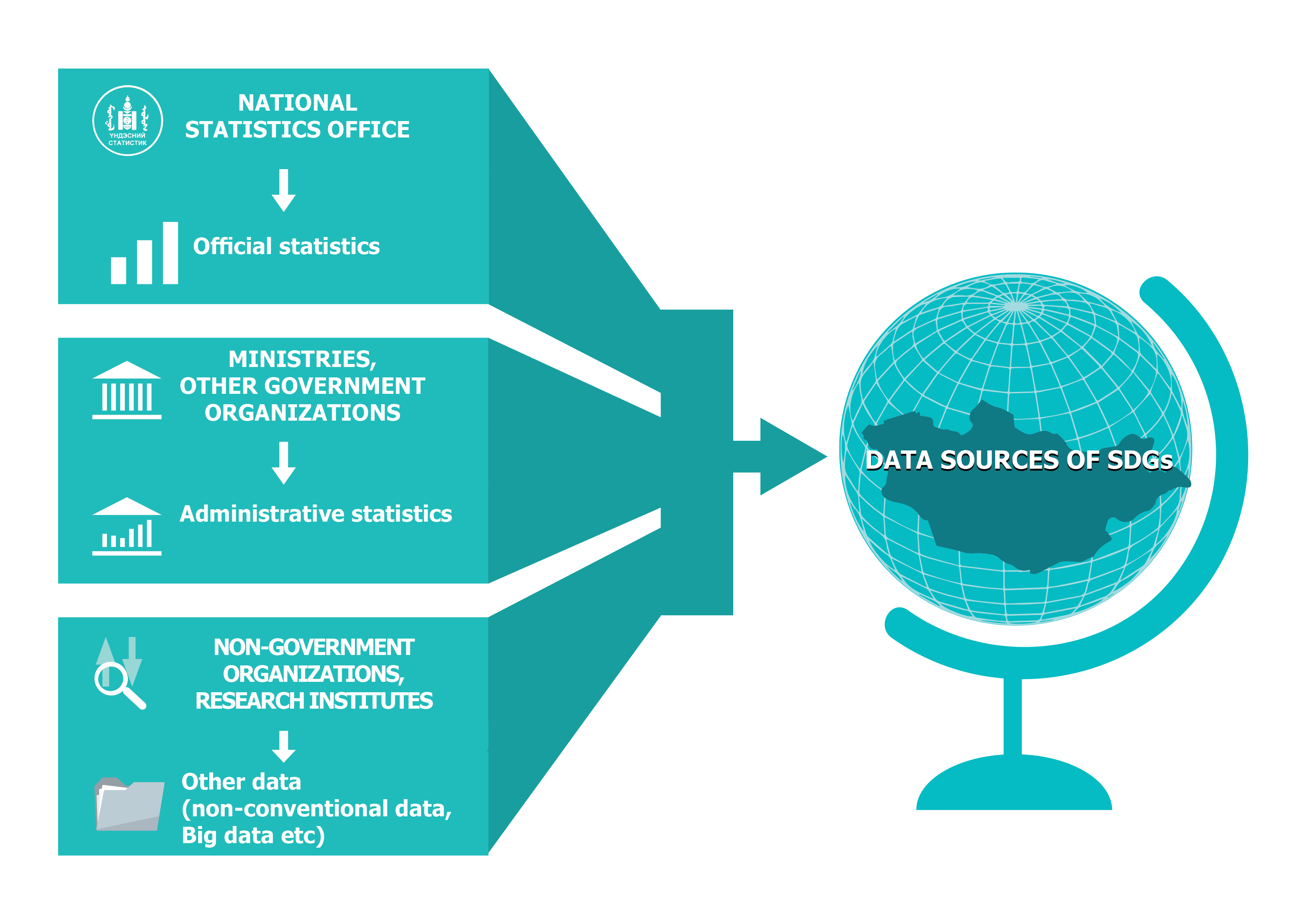 ACTIVITIES UNDERTAKEN TO BE IMPLEMENTED BY MONGOLIA WITH RESPECT TO SDG
The law on Development Policy and Planning of Mongolia was adopted on November, 2015, to define the steps, principles of planning, implement, monitor and assess the Mongolia's development documents, the right and obligations of stakeholders and establish the integrated systems of development policy and planning.
Mongolia Sustainable Development Vision-2030 was approved by Parliament of Mongolia in February, 2016.17 goals, 169 targets of Global SDGs are aligned with 4 priorities, 44 targets of Mongolia Sustainable Development vision-2030 as follows: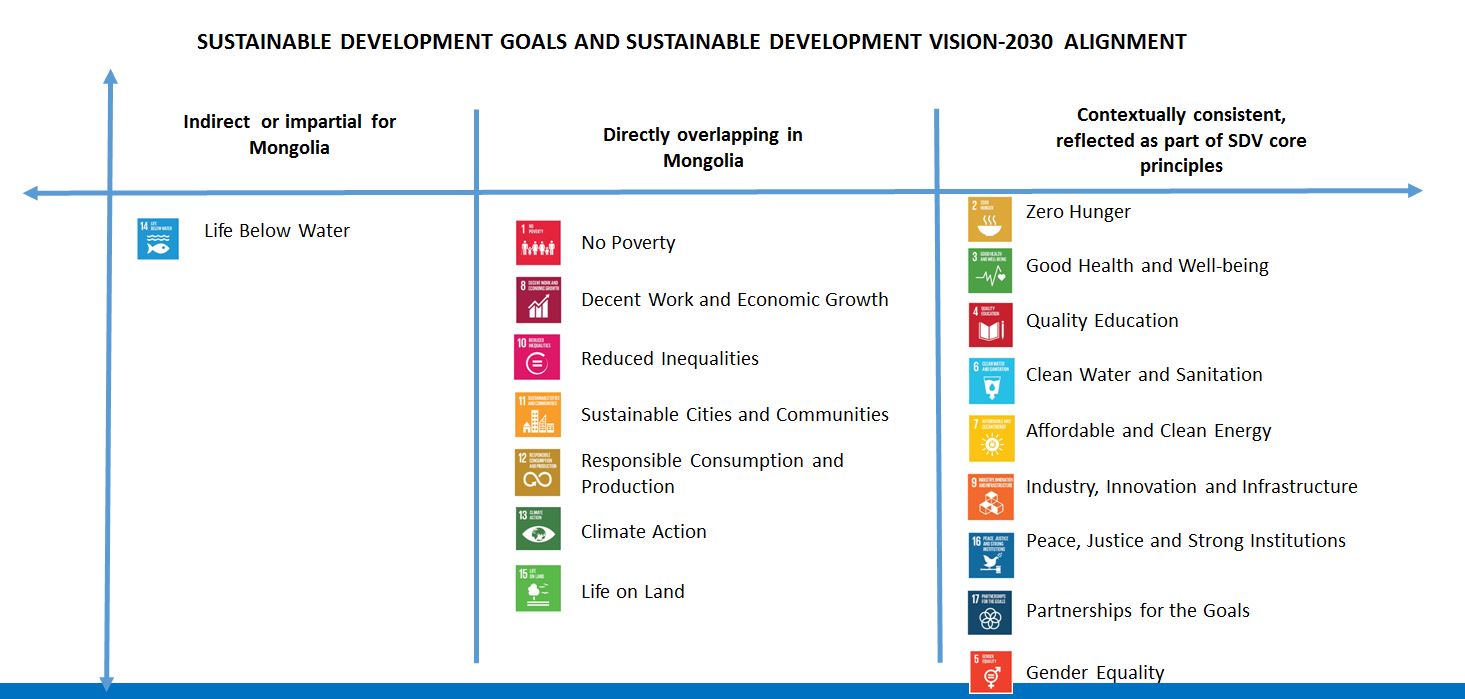 According to a Decree by the Prime Minister, 9 Task Forces entrusted with determining national SDG indicators, methods and data sources have been set up under the supervision of the National Committee.
• The Subcommittee on the Sustainable Development Goals has been set up under the standing Committee on Social Policy, Education, Culture and Science of the Parliament. It is chaired by Ms. A.Undraa, Member of the Parliament.
In Mongolia, three assessments of the availability of the SDG indicators were conducted.
Assessment 1. Official and administrative statistics were covered. Joint Review of National Data Availability for SDGs by NSO and UNDP, 224 indicators were covered. First assessment was made in 2015.
Click here
for more details
Indicators
%
1.Total SDG
224
2. Not applicable to MGL
13
3. Total SDG assessed, (1-2)
211
3.1 Number of indicators split from SDG
17
3.2 Split
63
4.SDG indicators applicable to Mongolia, (3-3.1+3.2)
257
4.1 Readily available
45
17.5%
4.2 Available after little effort
64
24.9%
4.3 Available after more effort
28
10.9%
4.4 From external institution
5
1.9%
4.5 Available if data collection changed
72
28.0%
4.6 Not available
43
16.7%
Assessment 2. Official statistics were covered. A re-assessment of National Data Availability for SDGs by NSO, 241 indicators were covered. Second assessment was made in 2017.
Click here
for more details
Indicators
%
1. Total SDG
241
2.Not applicable to MGL
13
3. SDG indicators applicable to MGL, (1-2)
228
3.1 Readily available
60
26.3
3.2 Available after additional calculation
11
4.8
3.3 Not available
157
68.9
Official and administrative statistics were covered. Joint Review of National Data Availability for SDGs by NSO, 244 indicators were covered. Third assessment was made on Oct, 2017.
Click here
for more details
Indicators
%
1.Total SDG
244
2.Not applicable to MGL
11
3.SDG indicators applicable to MGL, (1-2)
233
3.1 Readily available
113
48.5
3.2 Not available
120
51.5
RELATED WEBSITE LINKS FOR SDG's INFORMATION